This is an archived article and the information in the article may be outdated. Please look at the time stamp on the story to see when it was last updated.
ARLINGTON -- Even in a digital world, paper can still have power.
A group of Arlington voters submitted a stack of 11,433 signatures to the city secretary's office on Monday, completing their end of a petition to put a proposition on this November's ballot to create term limits for the mayor and city council members.
"There are 12 cities right here in North Texas that already have term limits in their charter," said organizer Zack Maxwell, "and so we think it's appropriate that Arlington residents have a chance to vote on this issue."
The change would cap mayoral and council careers at six years (three two-year terms) regardless of whether or not they're served consecutively, though someone could serve as both mayor and a council member for up to six years each.  The time limits would begin with each seat's next election so time already served would not count toward the limit.  Currently, four of the eight council members, not including the mayor, have served for at least 10 years, but some argue that stability is good for government - particularly when it comes to developing economic relationships.
"I do understand the consistency thing, but what's also important is new blood and fresh ideas," counters Maxwell.
But since voters can already vote out city officials at the end of any term, are forced exits really necessary?  Apparently, people believe so as the number of signatures was about 2,000 more than required by city law, and it was a rare bipartisan response.
"I am a staunch Republican," said Maxwell, "and right over here you'll notice behind be some Progressive Women of Arlington.  This was the easiest sell of our lives.  Ninety to 95 percent of the people we asked enthusiastically signed this petition."
However the effort is not going unchallenged.  Opposition flyers from an unknown source circulated around the city trying to stop people from signing the petition, and Maxwell says his side will be outspent 100-1 when it comes to advertising.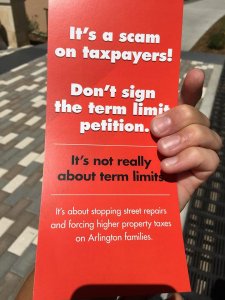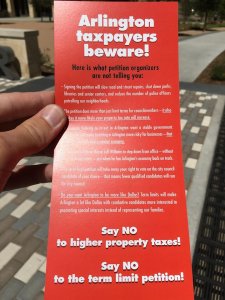 The signatures still need to be certified, after which the proposition will officially be added to the ballot at the next city council meeting in August.
Mayor Jeff Williams did not respond to a request for comment about the petition; the city council is on break for all of July.