This is an archived article and the information in the article may be outdated. Please look at the time stamp on the story to see when it was last updated.
ARLINGTON — After rescuing the same pit bull for a second time, Arlington Police Sgt. Gary Carter has decided to adopt the dog.  "This dog keeps crossing my path so it must be meant to be," said Sgt. Carter.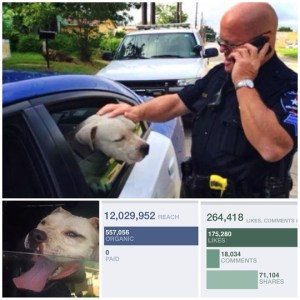 The officer first rescued "Jeffrey" a few weeks ago when he found what some people warned was a 'vicious' pit bull; Carter found t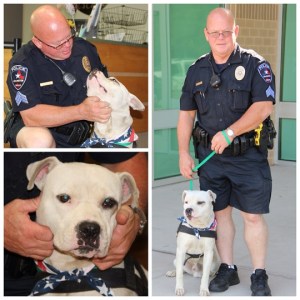 he dog to be friendly and photos of the two soon went viral.  But after reuniting Jeffrey with this owner, the dog got out again and was taken to Animal Services.
Carter decided to adopt the dog so he would not be euthanized, and he's changing Jeffrey's name to Chance, in recognition of his second chance in life.
Original story from Cristina Caballero:
ARLINGTON-What do you think of when you see a pit bull? Friendly? Playful, even? Well, not everyone would agree.
Arlington's finest were flagged down by some folks while responding to another call, claiming a pit bull was vicious.
But, after a closer look, Sergeant Gary Carter noticed the pit wasn't bad to the bone.
"He was friendly, he was more trying to make friends than hurt anybody," Carter said.
So, he and a fellow officer, lured the dog into their squad car.
"Using one of her protein bars. He didn't want to get in at first so we had to use a little food to coax him in," he explained.
Now that he was in custody, they wanted to find the dog's owner. They took to Facebook and oh man, did they get some attention!
The response after they posted this photo was, well, dog-gone incredible. Over 67,000 likes.
"I'm glad that it had this response. Maybe people can realize that not all big dogs are dangerous and second, not all police officers are out there to shoot big dogs, because we're not," Carter said.
Luckily, this doggie was micro chipped and got to go home with his owner, all thanks to the boys in blue.
Guess this is one time over-sharing on the Internet paid off.