This is an archived article and the information in the article may be outdated. Please look at the time stamp on the story to see when it was last updated.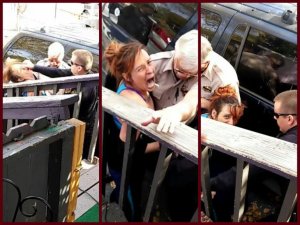 FLAGSTAFF, Ariz. — Video posted on Facebook has the Flagstaff Police Department investigating one of its officers.
The video shows officer Jeff Bonar punching a woman, identified as Marissa Morris, while he and another officer were trying to arrest her.
According to reports, Morris and her boyfriend, Jimmy Sedillo, were being evicted from their apartment when officers tried to arrest Morris for an outstanding warrant.
Morris insisted there was some sort of mistake and was refusing to go with the officer until he showed her proof of the warrant.
That is when things turned violent.
The video does not show Morris getting physical with the officer, but it does show her asking over and over again "why" she was being arrested.
"You can not arrest me until I know that I have a warrant," Morris is heard saying. "I need to hear it from you."
The video then shows Bonar punching Morris in the face, and the shocked woman and witnesses began screaming.
"Hey, you can't hit a girl like that!" the man filming the incident yelled.
"You can not punch her like that," another woman at the scene said.
The officer then began to threaten Morris that she was going to get tased if she did not on the ground while she continued to ask what she did wrong.
"I didn't do anything," Morris cried repeatedly.
Her family members then urged her to calm down and be cooperative, saying that they were recording the entire incident.
"I got it on camera Marissa, I got it on camera," her brother-in-law, Danny Paredes, said.
Family members then called 911 to report what happened, and also called to check if Morris had a warrant. They said nothing came up, and told officers.
"I don't have a warrant, I don't have a warrant," Morris screamed as she was being dragged away.
Many on social media are calling the officer out, saying the punch was a "cheap shot."
The department released a statement saying the woman was "somewhat uncooperative" and the department was "very concerned by what is depicted in this video"
Bonar has been placed on leave.
Watch the shocking video publicly posted by Danny Paredes Esb.
WARNING: EXPLICIT LANGUAGE