This is an archived article and the information in the article may be outdated. Please look at the time stamp on the story to see when it was last updated.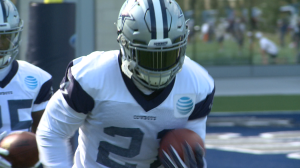 FRISCO — The Cowboys were back on the field after they bye week, and it was a much needed week off for several injured Cowboys.
"It feels good to be back out there, it's been a long road," said Orlando Scandrick, who has missed the last 4 games with a hamstring injury. "Looking forward to this weekend and I'm just happy I'm back out there."
"Today's my first day, I got a little individual, a little work with the team, felt pretty good," Lance Dunbar, who's missed the last 2 games, said. "Excited to be back out there."
Even better, while the Boys were resting the rest of the conference was slumping! Thanks to an ugly Vikings loss, and an even uglier Seahawks tie, Dallas may now the team to beat in the entire NFC, but of course, don't expect any of these guys to think that way.
"We got a lot of season left, you know," said Zack Martin. "It still feels very early and we know that so we've got to focus week to week and keep our minds focused on the now."
Well, whether the Boys are really the new NFC favorites, they should at least help the NFL score a big win with their Sunday night showdown against 4-2 Philly coming up, which will be going up against Game 5 of the once in a lifetime, Cubs-Indians World Series.
So don't be surprised if America's Team takes down America's Pastime in the TV ratings, especially now that the Cowboys look like they're back on top again.