This is an archived article and the information in the article may be outdated. Please look at the time stamp on the story to see when it was last updated.
ARLINGTON -- It's one of the most diverse colleges in the country -- 6th among large universities according to bestcolleges.com. Even their website touts them as 'A Community That Cares'.
Yeah, it's easy to get rose-colored glasses on the campus of UT Arlington. Then something like Monday night happens.
"I know there's a lot of people who don't support immigrants, but to take that extra step and to take the time to put up a poster, it just opens up your eyes," said UTA Progressive Student Union's Daniela Chavez Garcia.
The flier that was posted around campus Monday night is a print out from Vanguard America, a group promoting a white American nation.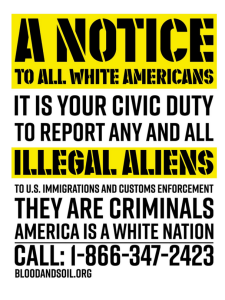 Is the poster legal? Yes. UTA Students, though, say it's about much more than illegal immigration.
"The poster said 'illegal immigration', but it also said white America or something," said UTA wheelchair basketball player, Alhassan Sedky. "Why do you have a certain color on it if all you have is illegal immigrants?"
The UTA Movin' Mavs hoops team won a national title in March. Sedky moved from Egypt to be part of that team, and he and fellow students have a defiant message on this one.
"Seeing stuff like that, it's not going to stop us," Sedky said. "We're just going to keep doing what we're doing."
"The main thing you want to do in this situation is more harmony, more galvanization," said UTA Progressive Student Union's Jeremiah Harris.
It can be tough when they aren't sure they have the state's support. UTA students voted to make their campus an unofficial immigrant sanctuary after their administration said they couldn't risk funding by making it an official move.
That comes at the same time on Dallas Representative, Victoria Neave, is literally fasting for a miracle on the state's sanctuary bill. The State House decides Wednesday if they're going to ban sanctuary designations, making it easier for the law to find illegal immigrants.
President Trump wants to cut funding to sanctuary cities, but a federal judge in California has blocked that order for now.
It seems sanctuary isn't quite so safe these days.