This is an archived article and the information in the article may be outdated. Please look at the time stamp on the story to see when it was last updated.
Any death is sad.
But when it's someone in the prime of their life, it somehow seems even m
ore tragic.
That's why the campus of Texas A&M Commerce is in mourning.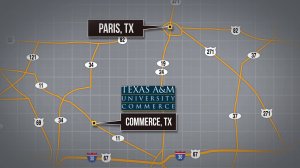 Tuesday night, several players on the women's basketball team were on the way to Paris, Texas to watch a summer league game.
Police say they pulled out in front of an 18-wheeler.
The result: Aubrey Butts, 20, of Lewisville  and Devin Oliver, 21, of Rowlett are dead.  Two of their friends were injured, but they're out of the hospital.
A candlelight vigil was quickly set for Wednesday night. It'll give everyone a chance to say goodbye.  For the the rest of the team, it's a chance to learn and deal with something you won't find in any playbook.