This is an archived article and the information in the article may be outdated. Please look at the time stamp on the story to see when it was last updated.
DALLAS-- This story has a lot of heart. Quite literally.
After it nearly killed her, a Bedford woman held her own heart in her hands.
Jane Poston says it just came out of nowhere. "I got so sick, I could only take about ten steps without almost collapsing." A few years ago her 62-year-old heart failed her, and after years of fighting, a new one saved her life.
While choking back tears, Jane says, "He listened to it, and he just said, it's perfect. I mean, before I listened to my heart and you could barely hear anything."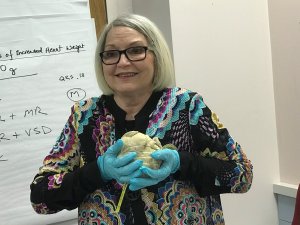 About a year after the transplant… she held it in her hands. "I mean, it was inside me. You know it was my friend for a long time." says Jane.
You might be asking… why… why would you want to do such a thing? Jane says, "Who can do that? Why wouldn't I want to see what my diseased heart look like, to understand, and just the wonder of it."
She's not the first person to do it either. Doctors at Baylor University Medical Center call them heart to heart sessions.
A session that brought healing for Jane.
"From my heart message, the importance of never giving up, never giving up, in spite of whatever the challenge may be." says Jane.
There's something unique about Janes new heart. It's imperfect. "The heart was hep c positive, I am test patient number one." Doctors tried something new on Jane, and Jane hopes it will give another person a second chance at life as well.