This is an archived article and the information in the article may be outdated. Please look at the time stamp on the story to see when it was last updated.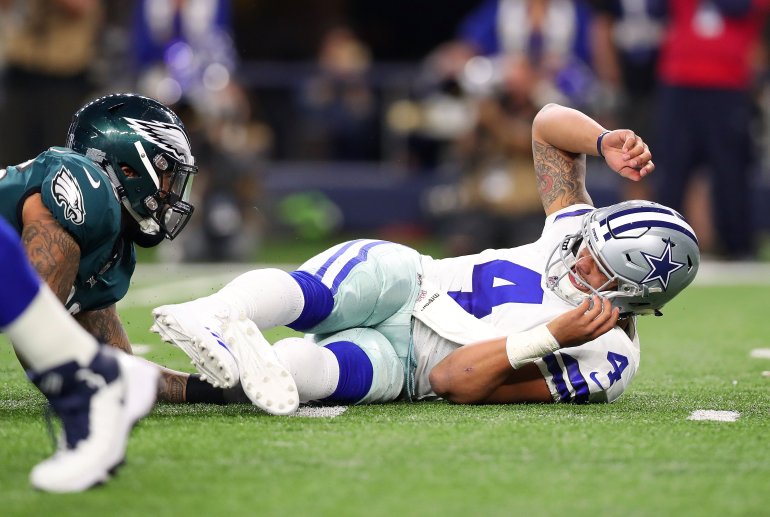 ARLINGTON, TX — There wasn't much the Cowboys could say after getting blasted by the Eagles on Sunday night.
"They just came out, moving the ball, they were just more dominant than us and they won the game," Demarcus Lawrence said.
And that 37-9 blowout loss ends any hopes the Cowboys had of rallying to win the division, but did it end their playoff hopes entirely?
"It would be pretty tough not to panic, but I don't think we're panicking," Alfred Morris said, "The type of guys we have in this locker room, the type of coaches we have, the faith we have in us, we'll go back to the drawing board and we'll bounce back from this."
Well here's the simple math of where the Boys stand in the Wild Card Race: At 5-5 they're a game and a half out of the 2nd spot with Seattle and Atlanta playing tonight. So it's not out of reach yet, but another loss like this one, and it will be.
"Coach Garrett couldn't put it in better words, giving us our options from 11-5 all the way down to 5-11," Dak Prescott said post game. "It's up to us to figure out what we want to do, and it's about coming in and getting back to work."
Well with the Thanksgiving Thursday showdown with the Chargers just three days away, they don't have much time to fix these problems. If they can't score a win and get back on track, they'll have an early offseason to diagnose everything that's gone wrong.