This is an archived article and the information in the article may be outdated. Please look at the time stamp on the story to see when it was last updated.
LOS ANGELES -- The shock factor doesn't seem to be dying down after Harvey Weinstein's sexual assault allegations surfaced. Victims have aired out his and many other's supposed dirty laundry. The latest person to be called out is Jeremy Piven. The Entourage star responded to his accuser Ariane Bellamar.
After claiming Piven harassed her in his trailer, he denied the "appalling allegations" in a statement.
HBO also said they have "zero tolerance for sexual harassment" and Bellamar had "several avenues for making complaints."
Well, it's a small world because Smallville actress Cassidy Freeman also called out Piven on Instagram.
She didn't give any specifics, other than Piven had "predatory behavior" towards her when he knew she was far too young.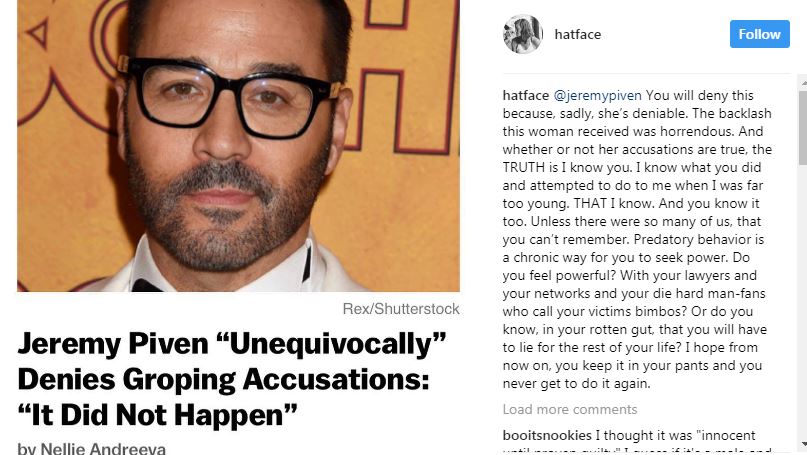 Well, as a result, The Late Show has pulled Piven's interview.
Another actor who's been accused of sexual misconduct is Kevin Spacey. After two fellow actors called him out, one of them being an underage boy at the time, Spacey has decided to seek treatment.
We wonder if it'll be the same "treatment" Harvey Weinstein is reportedly getting.
After Page Six posted pictures of him flying commercial with a bunch of pill bottles -- some are wondering what's really up?!
If you think Harvey's allegations have only inspired victims in America to speak up -- think again.
UK's defense secretary, Michael Fallon, has lost his position over sexual harassment allegations.
Over in Peru, beauty contestants staged a protest during a televised pageant. Instead of sharing their bust measurements they cited domestic abuse and sex slavery statistics.
As ugly as things have gotten in Hollywood, the beauty is seeing people around the world stand up and speak out!