This is an archived article and the information in the article may be outdated. Please look at the time stamp on the story to see when it was last updated.
Many people tend to snack while watching their favorite TV show or movie. But according to a study by folks at Cornell University, an action movie may double the usual snacking efforts. In a study of 94 people, those who watched Michael Bay's movie The Island ate about twice as many snacks as those watching The Charlie Rose Show.
The study did show that it was more about quantity and that the participants would each just as many healthy foods if it was in front of them.
When it comes to action movies and folks snacking, we thought we'd talk to the ex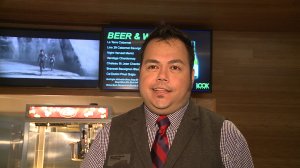 perts. Off of Beltline Road in Dallas, Look Cinemas' 11 screens and leather seating spoil those looking to get their movie fix. Assistant Manger Michael Rivera admits there does seem to be a correlation between more action and more food.
Rivera says, "With action movies, their adrenaline rises and before they know it, they eat the whole bag of popcorn; they just come out and get some more." But it's not just popcorn that folks are getting here. Sliders and a full menu give the movie goers something to feast on.
So we're not saying The Hunger Games will make you hungry, but you may want to put some healthy options nearby so you don't feel so guilty after the movie.