This is an archived article and the information in the article may be outdated. Please look at the time stamp on the story to see when it was last updated.
NEW YORK, NY -- It's the most scandalous love triangle to hit the Big Apple!
A husband and father of ten was caught by his wife getting it on with another woman, but with a little twist! This love affair is made of a hawk trio!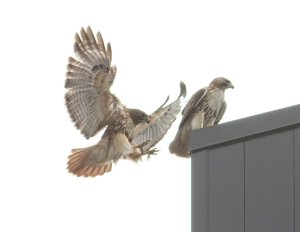 Get this, Christo, the male, and Dora, his wifey, have reigned over Tompkins Square Park for years. That was until Dora had to go to rehab for a messed up wing. Not too long after, Nora, A.K.A not Dora, swooped in and peacocked all in front of Christo!
Eventually, the day came when Dora came back from rehab and found her hubby getting freaky with his mistress! Which is a no, no in the hawk world considering many of them mate for life.
So not surprisingly, that's when all hell broke loose. Laura Goggin has been watching them like a hawk on her blog and said the three flew around the park screaming at each other.
Bird-watchers say Dora and Christo have patched things up even though he still visits his side chick.
We all know the internet has a few things to say about that!
I'm a messy finch who lives for drama, so I'm glad everybody is finding out about the hawk affair that's scandalizing our neighborhood, where the dude is pulling a Newt Gingrich on his sick partner. https://t.co/YL0Yvhqdsr

— Anil Dash (@anildash) March 4, 2018
Males are trash it's just science https://t.co/7jORCai2IO

— siri (@SiriCerasi) March 4, 2018
Men...Even in the animal kingdom!🙄You don't need him Dora! https://t.co/YiRITiuFd9

— Lyns & Pixie ♡ (@Lyndsey_Pixie) March 4, 2018
It looks like Christo is trying to make it work with both ladies, but you know what they say, three's a crowd!