This is an archived article and the information in the article may be outdated. Please look at the time stamp on the story to see when it was last updated.
via Shoshana/Flickr
6 Dallas Eateries that Show We're More than Barbeque
KateMorgan, NewsCastic
You are hungry. It's okay. We all get that way. You might even have gone long enough without a meal to actually get hangry. That's okay too. It's why you're here. We like to be helpful, and we know food. We can fix this.
But you're probably also tired of suggestions that net you nothing but brisket and tacos — and sometimes even brisket tacos — while you're out and about in the Big D. There's a lot of restaurants that do these things. Some of them are very good places.
Your malaise is also, believe it or not, very okay. Contrary to a lot of the stereotypes, there's actually a lot of food to be had here — even when you rule out barbecue and Tex-Mex. (They're not even going to be on this list.)
But if you want those, we could make one later, I guess. We're cool like that.
It is said that eating is the stuff of life. At least, maybe it is. According to Phineas Q. Einstein, or Broseph Lincoln. So sit tight, tuck in your napkin (Or don't. Seriously, who does that?) and live. Get ready to try them all. Here are six places that don't do typical fare that do what they do very, very well:
This is my bowl. There are many like it, but this one is mine.
Picture by EnleeCreations.
Meddlesome Moth (Design District)
Gastropubs are gastropubs. The concept gets executed a lot. We really like to eat fancy burgers and fun pizzas. That's why we keep building shrines to them. You know, those leaning towers of delicious beef between bread reaching toward the sky to just waiting to be felled by our own sense of hubris.
Ho-hum.
But sometimes a gastropub also stands out. This is definitely the case with Meddlesome Moth.
Where the Moth shines is its seafood, and the appetizers, really, everything in general. It all compliments the beer list well, though the food is great on its own.
Must-trys are the Catalan Mussels and the Burrata. The broth from the mussels goes great with the bread. The Broccolini and Bacon-Lollipops are also pretty okay.
The ambiance here is exactly . . . what you expect from a contemporary beer and burger joint located in a section of the city devoted to design. It's quirky, but in a calculated way–just like the menu.
You'll see faux stained glass windows that venerate rock stars. There are so many awesome craft brews it's hard to list them all. There are over 140 varieties available. You'll probably hear Neutral Milk Hotel at least once in the evening. (Maybe even twice).
Serious Pizza (Deep Ellum)
Deep Ellum is full of late night food, because it's where you go to have a fun, but weird time. It's famous for that. But sometimes, even among friends, you can feel a little lost in the thronging crowd.
Serious Pizza is the place you pop into for a moment to nab your home slice. It's where you go to find your bearing in a sea of the kind of punk rock instability that accompanies an existential crisis.
No lies. It's greasy (in that good way). Cheap. Loaded with toppings. There are excellent menu choices that include two veggie options and an offering appropriately named "The Big Meat" on the chalkboard for selection, but really–the possibilities are endless. It's pizza. Combinations are what it handles best.
There are also calzones and salads on offer, and they are equally good.
But let's be real here, this is not high-class fare. You go to Serious Pizza when you've downed several rum and cokes at Club Dada and you're hungry enough to walk down the street with a huge slice stuffed in your face before the next band gets enough beers in them to take the stage. Or maybe you want to sit down. The actual restaurant is pretty awesome too. You can get out of here spending about $7.
La Pasadita (East Dallas)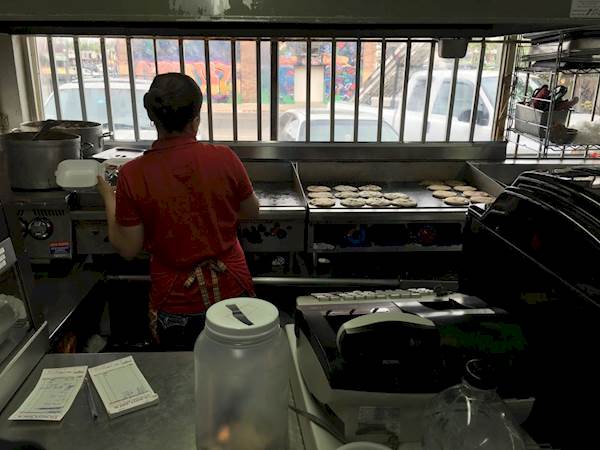 Dave G. Yelp
 This brings us to the
humble pupusa
. A simple, but excellent food that is at least an equal to the taco, if not possessing virtue just by being its close Salvadoran cousin. There's been a wave of immigration from Central America to Dallas, over the past 30 years, and the East Side is full of restaurants that reflect this aspect of city culture.
For the uninitiated, pupusas are a preparation made from a thick, corn tortilla made from maza dough that is then filled with quesillo (cheese) and seasoned pork or refried beans and fried on a griddle or skillet to make a pocket of deliciousness.
You want to eat them with the jalapenos and curtido (spicy cabbage slaw) that come as a garnish. They're okay without, but so much better with it. It's important to note that this place is tiny, and there's absolutely zero ambiance.
It's actually located in a convenience store, and you can watch the kitchen staff make them right before your eyes. You don't care. You might actually think it's pretty cool.
Really, you just want several pupusas, and you'll eat them in the parking lot outside if you have to. They're that good.
Zenna (Downtown)
Perhaps, despite all these offerings, there's still a part of you that's longing for some Pan-Asian cuisine. Fear not my luchador-masked friend, we've got you covered. Zenna serves a variety of delicious Thai and Japanese offerings to its ravenous public.
You may have to wrestle with choices while you're here, because there are a whole lot of them and most of them are delicious. If you're in the mood for an appetizer the Corn Patties are quite satisfying. If you're looking for dessert I recommend the Fried Banana with Ice Cream.
I'm a fan of Pad Kee Mow, but the important thing to understand about Thai dishes at Zenna is that when you ask for spice on their star system, they'll really make it hot.
If you're after vegetarian fare, many items can be made with tofu, or to that specification upon request.
You really want to come here for lunch, if you can though. You can get a Bento Box filled with sushi, curry, noodles and rice, etc. for a price that ranges from $6 to $9 depending on the meat you choose. The shrimp might seem kinda pricey, but is actually worth it, if you want it.
Breadwinners Cafe (multiple locations)
Banana Bread French Toast. A sampler basket of baked goods. Bloody Marys. This place is all about brunch. Okay. It does other meals too. But brunch is beautiful. We really like brunch. We might go sit at the Nasher and watch some bands play next time there's a block party together.
I mean, how else can you scarf booze and bread on a Sunday Morning like it's going out of style?
Oh. Well, this place definitely does it tastier. If you're watching carbs, you can go with a steak and eggs combo or Julio's Huevos, I guess, but I'm not sure why you're here. Chains of gluten and carbons lined up into sugar patterns should dance on your tongue like children following Maria Von Trapp in clothing made out of old curtains. Like embarrassments to their father. I mean, that is, er . . . delicious embarrassments.
They will try to sell you on their Chicken and Waffles. They are good if you like jalapenos and gravy. Spice evangelism at its finest, I suppose. To say they are the best is lying, since they are a southwestern take on the concept. For the classic, go to Lucky's Cafe. You'll get sassy waitstaff and generous portions.
Cosmic Cafe (Oak Lawn)
Warning: This place is vegetarian. This place serves Indian food. We'll be honest. If those are not options on your list, or even on your radar, you can pass this place by (I've also included a bonus gastropub on this list just for you).
But if you really, really like saag and naan, this place is ready to fly in and save the day with his awesome Bollywood girlfriend Spiderman. The heroic rescue will be delicious.
Menu offerings include hummus, falafel, spinach enchiladas and dahl. The Portabella Trance comes strongly recommended. The Mango Lassie is everything you hope for one to be.
The food here is great — and it's really only complimented by the awesome patio, ambiance and culture. The cafe's got regular Yoga sessions scheduled in the mornings if you're super into downward dog and is really representative of the diversity that can be found in Oak Lawn neighborhoods.
But the coolest thing about the Cosmic Cafe is that it was founded by character actor Kumar Pallana, (he originally called it the Cosmic Cup) who was discovered as Wes Anderson and Owen Wilson frequented the restaurant. It's not just a place to grab grub. It's a cultural institution.
Honorable Mention: Public School 214 (Uptown)
This place is far too new to really consider a Dallas institution. It's still experimenting — still finding itself.
In some ways, it's meandering like mid-90's Angela Chase as she dyed her hair and pined away for Jordan Catalano. It's not entirely ironic that the concept styled itself after a high school. It's really very literal.
Despite the yearbooks on the wall, globes displayed in a street-facing window, and menus styled to look like composition books, the fare is more ambitious than the concept gives credit for.
When a group of friends and I dined there in October, everything was satisfying in a way that only good food prepared with care and comfort in mind can really be. The Crispy Buffalo Cauliflower was divine.
The tomato stack I ordered appears to be no longer on the menu, which is a pity. We all ate bites of each other's dishes, passing them around and savoring bits of flavor.
As I waited for the check, I sat contented with a smug grin like Chris Farley at the end of ," and ordered a mushroom and truffle oil pizza and variant of bangers and mash to take home to my roommates, just to make sure I added enough volume to the table to keep this eatery alive. I hope to return.