This is an archived article and the information in the article may be outdated. Please look at the time stamp on the story to see when it was last updated.
Universal Studios Orlando opened in the summer of 1990 and over the last 27 years, it has consistently fought to outgrow its reputation as Walt Disney World's little brother in the central Florida turf.
Thanks to additions like the Wizarding World of Harry Potter, Universal has definitely established its own identity now and is well worth a visit during your Orlando vacation. But what tips and tricks do you need to dominate the park? That's what we're here to answer.
1) Can You Do Both Parks In One Day?
Many may not know, but Universal is made up of two parks (three now, if you include Volcano Bay Water Park); Universal Studios and Islands of Adventure. The question is, can you tackle the two primary theme parks in one day?
The answer is yes — with two caveats. If you're willing to spend the extra $85 on the Universal Express Pass, you can skip the lines all day and absolutely have time to ride every ride in both parks.
If you're feeling thrifty, you can still do both parks, just be a little more selective with what you do. For instance, when my wife and I went earlier this year, we didn't even bother with any water rides (I hate being wet), or kids sections, like Dr. Suess' Land. We were easily able to knock out everything we wanted to do in both parks with at least an hour to spare before closing.
Doing both parks in one day also unlocks one of the coolest experiences, which is riding the Hogwarts Express between the two parks, which connects Diagon Alley and Hogsmeade. Which leads us to…
2) Save Harry Potter for Later
If you're a die-hard Potterhead, you probably can't wait to sprint to the back of either park to experience the Harry Potter section. Don't. Unless you camp out hours ahead of time, the lines in Diagon Alley and Hogsmeade will be near an hour as soon as the parks open. Instead, enjoy a nearly empty rest of the park all to yourself.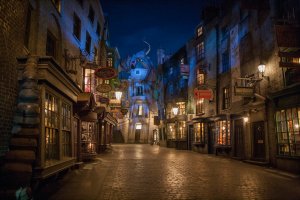 When we went, we were able in our first hour of the day to ride Transformers, E.T. Adventure, Men In Black and Revenge of the Mummy, with the longest wait being maybe 10 minutes. Then we made our way to Diagon Alley, where we waited an hour to ride Escape From Gringott's, which had been at an hour wait from the moment the park opened.
A few hours after the park opened, the rides that had no wait had up to an hour waits themselves as the Harry Potter fans filtered back into the rest of the park.
3) Enjoy The Lines
Waiting in line is usually the worst part of the theme park experience, but Universal makes it awesome. The theming in the lines is downright amazing, with my personal favorites being E.T's Adventure, Kong, and Escape From Gringott's (I honestly think I enjoyed waiting in Gringott's more than the ride itself).
So don't look at a 45 minute to hour wait as a huge sacrifice. The lines themselves take you into the movie in an impressive way you won't forget.
4) Top Eating Options
The food options at Universal have become world famous, thanks to the addition of the Wizarding World of Harry Potter. Obviously, the Butterbeer is a fan favorite and is definitely worth the investment (especially on a hot Florida day), but what is less talked about is the Pumpkin Juice, which is like a delicious pumpkin spice cider.
As for eating, you've got to head back into Diagon Alley and check out the Leaky Cauldron. You might as well be eating in London with these amazingly realistic British dishes. Not to mention the portions are all a pretty good size, which comes in handy with pricey theme park food.
5) The Top 3 Rides
Obviously, this is going to come down to personal preference, but here are my Top 3 Rides that cover both parks.
#3 – E.T. Adventure: This one may seem odd, but this is just a classic dark ride and while it won't blow you away with any effects or speed, it is a beautiful tribute, designed by Spielberg himself, that will leave you smiling.
#2 – Transformers The Ride 3D: Universal is probably best known for their ride vehicles that blend moving cars with 3D screens and live props. This system is, without a doubt, best utilized on the Transformers ride. You will absolutely be convinced you are driving 80 MPH, dodging missiles and falling off buildings.
#1 – Harry Potter and the Forbidden Journey: A can't miss, even if you don't like Harry Potter. The ride blends live props and animatronics seamlessly with video and takes you through all the best moments from the series in a thrilling way. Worth the wait even, if the wait time is showing 60 minutes.
So there you have it — five quick tips for dominating your day at Universal in Orlando. Hopefully, your day can be just as epic as the movies the park is built around.
Be sure to check back soon for more theme park tips!