This is an archived article and the information in the article may be outdated. Please look at the time stamp on the story to see when it was last updated.
A standoff begins. … A campaign ends. … And planes are turned around. It's Wednesday, and here are the 5 things you need to know to Get Up to Speed and Out the Door.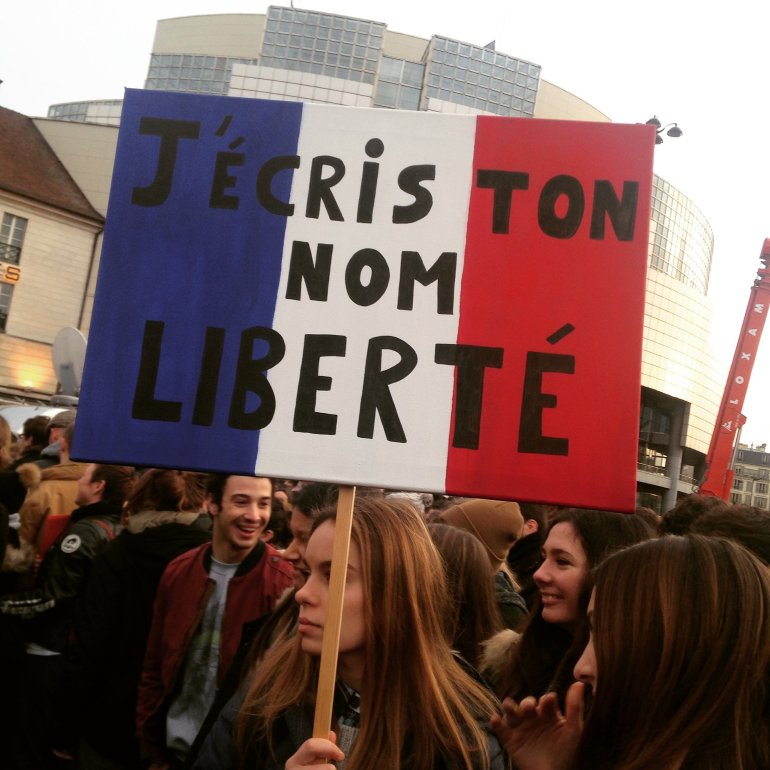 PARIS ATTACKS
Denouement … ou non? Early this morning, cops surrounded an apartment in the Paris suburb of Saint-Denis, and a standoff dragged on for hours. Their target: Abdelhamid Abaaoud, the guy who's believed to have plotted the Paris attacks. Police say they got there just in time, because the suspects were about to "move on some kind of operation." One clue: A woman inside who blew herself up. She was wearing a suicide vest. Officials haven't said whether Abaaoud was inside. A lot is still unclear. By the time you read this, a lot can change. Because this, as we say in our business, is still breaking. For all Wednesday developments, click here.
ATTACK AFTERMATH
The sum of all fears: The Paris attack's still fresh on our minds, and we're easily spooked. It's only natural. Last night, "serious plans for explosions" forced the evacuation of a soccer stadium in Hanover, Germany. It turned out to be nothing. Then later, not one but two Air France flights from the U.S. to Paris were diverted because of bomb threats. They too turned out to be, thankfully, nothing. U.S. Secretary of State John Kerry said yesterday this is not the new normal. But it is. Just like it was after 9/11. And that's OK.
FIGHTING ISIS
Everything but the kitchen sink: In the game of global whack-a-mole, the world's throwing all it's got at ISIS. Russia's waving $50 million for info on those who brought down the Metrojet plane (Read: ISIS). British PM David Cameron wants Parliament to OK airstrikes inside Syria (Read: ISIS). And at the G20, Putin and Obama flashed toothy smiles — their frostiness giving way to a common interest (Read: ISIS). But here's the rub: As Nick Paton Walsh points out, the only one likely to beat ISIS is ISIS. But it'll take a long, long time. Sigh.
CAMPAIGN 2016
It's been real: Surprising no one, Bobby Jindal has bid adieu to his presidential aspirations. "I've come to the realization that this is not my time," he said. Ya think? The Louisiana governor never topped 2% in any CNN/ORC poll. Meanwhile, the guy sitting pretty at the top of the pile -- Ben Carson -- says foreign policy's been a learning curve for him but he's getting the hang of it. Because, you know, it's not brain surgery.
'FERGUSON EFFECT'
He said/ she said: Remember last month, when the head of the FBI said cops can't police properly because they're under so much scrutiny since Ferguson? Whatevs, said the U.S. attorney general yesterday. She told the House Judiciary Committee there was zero data to support the so-called Ferguson effect.
BREAKFAST BROWSE
People are talking about these. Read up. Join in.
Sorry, guys who Swiffer
David Beckham is People's Sexiest Man Alive because, as the magazine put it, he's "a romantic husband, a devoted dad -- and he vacuums!" <insert eye roll emoji>
Faith in humanity? Restored!
Maggie Doyne spent her babysitting savings to build a school, a women's center and a children's home in Nepal. She's CNN's 2015 Hero of the Year.
A bad day at the office
How bad was the beatdown Holly Holm delivered to Ronda Rousey? Wired magazine did the math: 50 pounds of force.
We feel your pain
Hell hath no fury like a dad who steps on Lego bricks strewn ALL OVER THE LIVING ROOM FLOOR YET AGAIN! For you, there are now Lego-proof slippers.
WHAT'S FOR LUNCH
Here's what's coming up later:
In your face, ISIS
Charlie Hebdo's latest issue hits newsstands today with a big fat middle finger to militants.
2
No. of resettled refugees who have been arrested on domestic terrorism charges in the U.S. since 9/11. Someone needs to tell Alabama's governor that.
And finally ...
Today's Imogensday
Whereas nothing gets you over the weekday hump as adorable baby koalas being adorable, we do hereby proclaim it so.