This is an archived article and the information in the article may be outdated. Please look at the time stamp on the story to see when it was last updated.
A teen sues Obama; ghost ships wash ashore; and a couple drops $500,000 into a Salvation Army kettle. It's Tuesday, and here are the 5 things you need to know to Get Up to Speed and Out the Door.
LAQUAN MCDONALD SHOOTING
A change is gonna come: Chicago's mayor Rahm Emanuel is smack dab in the middle of a political firestorm. Protesters want him to resign and his police chief gone. This, of course, after the chilling video that shows Officer Jason Van Dyke pumping 16 bullets into teenager Laquan McDonald. So, what's a nervous mayor to do? He's going to announce a task force today that'll review the way cops are trained and how/if they're held accountable.
In related developments:
Officer Van Dyke, who's charged with murder, is free on bond. A judge set his bail at $1.5 million
A 21-year-old man who threatened to avenge Laquan's death by "killing any number of white policemen" and "rid the world of the white devils" was busted
CLIMATE CONFERENCE
Your grade? An F-minus: And Obama thought he had tough critics in Congress. Sheesh! The most powerful man in the world is getting sued — by a 15-year-old. Xiuhtezcatl Tonatiuh claims the prez talks the talk but doesn't walk the walk when it comes to climate change. Obama told the U.N. COP21 summit there's been plenty of change on his watch — like increasing solar power more than 20 times. A do-over for that grade, maybe?
JAPAN 'GHOST SHIPS'
Into the mystic: They keep washing up on Japan's shores – wooden boats with decaying bodies. The first arrived in October. Then came several others late last month. The best guess are the boats are from North Korea. But why? Are they fishing vessels that strayed off course? Were the carrying defectors? Unraveling the riddle is proving difficult because the North Korean regime is so secretive.
PARIS ATTACKS
Disappearing act: The most wanted man in Europe may have just slipped through the cracks — to Syria. Saleh Abdeslam is the only suspected attacker known to have survived the November 13 terror attacks in Paris. Cops were having a hard enough time trying to find him in France and Belgium. If he's really in Syria, back in the arms of ISIS … yeah, that's going to be a challenge.
RUSSIA TURKEY TENSIONS
Act III:
Putin: You didn't down our jet because you were defending your airspace. You downed our plane because we were bombing ISIS and you wanted to protect your oil trade with them.
Erdogan: We buy our oil legally. If you can prove your lie, I'll resign. If you can't prove it, YOU should resign.
And that was today's installment of the "War of Words: Russia v. Turkey."
BREAKFAST BROWSE
People are talking about these. Read up. Join in.
At a glance: The way pilots responded to a technical malfunction brought down Air Asia Flight QZ8501 … After 30 years of autocratic rule, Burkina Faso elects a new leader … A U.S. Marine is found guilty of strangling a transgender woman in the Philippines.
Quote of the day:
"Last I checked we don't have a rubber shortage in America"
— Ted Cruz's response to a woman who asked about making contraception available to women who "want to control their own bodies."
Ho! Ho! Hold on, it's naptime
When little Zeke fell asleep waiting for Santa, Mr. Kringle snuggled up with the 6-month-old for a photo that's all kinds of adorable.
I'm Bernie, I'm Bernie, I'm Bernie for you
Time readers really, really like the Vermont Senator. He's leading the magazine's Person of the Year poll – ahead even of Malala Yousafzai. And she won a Nobel prize!
A load of croc
Reptile-on-reptile violence never ends well. Just ask the saltwater crocodile (pictured in a viral Facebook post) going at it with a larger rival. Oh wait, you can't. He disappeared down the bigger croc's gullet.
You're gonna need a bigger kettle
A Minnesota couple dropped a $500,000 check into a Salvation Army kettle. They said when money was tight, they relied on discarded grocery store food. File under: There's still hope for humanity.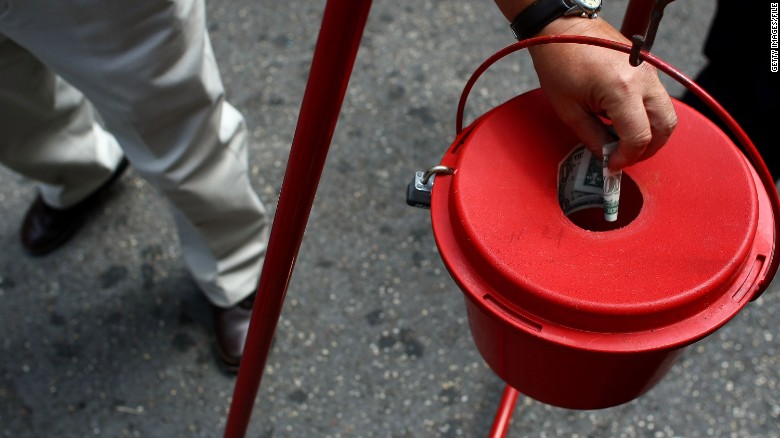 WHAT'S FOR LUNCH
Here's what's coming up later.
Still a long ways to go
Today is World AIDS Day. And even though HIV is no longer the kiss of death it once was in the U.S., all is not A-OK with the world. The number of kids who die of AIDS has tripled in the last 15 years. And 26 are infected every hour.
Still a long ways to go Pt. II
Today's the anniversary of Rosa Parks' act of civil disobedience that fueled the civil rights movement. But, like the CNN/Kaiser survey found, Americans consider racism a bigger problem today than 20 years ago.
We are the champions. Of the world
For this month, at least. The U.S. assumes the presidency of the U.N. Security Council. It's a rotating thing. No need to get too excited.
Number of the day:
$3 billion
Sales from this Cyber Monday, which would make it the biggest e-commerce sales day of all time! You guys really went to town on those deals, huh?
And finally ...
Turtle power
You don't have to be a reptile of the teenage mutant ninja variety. When one turtle's in a bind, there's always another to the rescue.