This is an archived article and the information in the article may be outdated. Please look at the time stamp on the story to see when it was last updated.
WILMINGTON, Del. — Horrific and absolutely heartbreaking. A 16-year-old girl was beaten to death after getting jumped by a gang of girls in the restroom at her high school in Wilmington, Delaware.
She has been identified as Amy Inita Joyner-Francis, according to The News-Journal.
The attack happened at Howard High School of Technology around 8:15 a.m., just before classes began Thursday morning.
Students told WPVI — the fight was over a boy. That's right — over a boy! Ridiculous.
"She was fighting a girl, and then that's when all these other girls started banking her- like jumping her- and she hit her head on the sink," Kayla Wilson said.
Even more disgusting, there are reports that other students recorded her death on cell phone cameras.
"I am so upset that a young lady lost her life today, things like that shouldn't happen," said Mayor Dennis Williams. "My heart bleeds for the family, the kids that go to this school, the administrators and this city.
Found in critical condition, Amy was rushed by police helicopter to the hospital where she died.
Police wouldn't reveal any details of the case, but confirmed they are interviewing two female students believed to have been involved in the attack.
From Facebook to Twitter, #RIPAmy is trending as people across the nation call Amy's death senseless.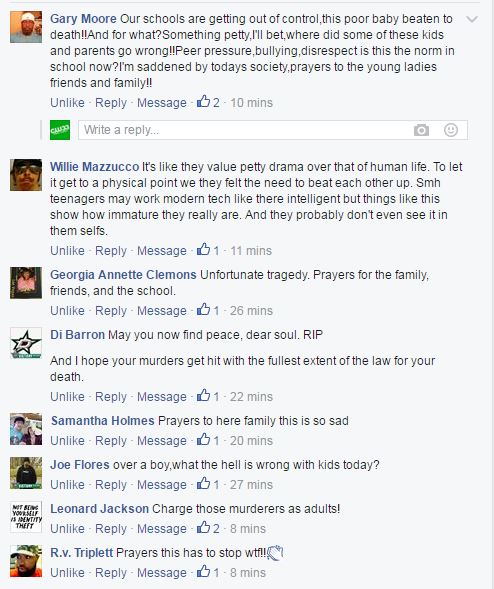 I am so sad & hurt by the young girl who lost her life at school today getting jumped. My heart is so heavy for her & her family #RipAmy

— Paige Hurd (@PAMH) April 22, 2016
We live in a world where a 16 year old girl gets murdered by her classmates in a school bathroom while other classmates record it. #RIPAmy

— Asha (@LaughableGirl) April 22, 2016
fighting for boys is NEVER worth it, im disgusted by those petty high school girls who ended amy's life, they deserve life sentence #RIPAmy

— nicole🍒 (@HAZPLICIT) April 22, 2016
https://twitter.com/ItsCasey132/status/723330134321803264
#RIPAmy: 16yo beaten to death in high school restroom. Here's what students say started it https://t.co/bxHCh3EEBA pic.twitter.com/7XDTew3cMK

— CW33 TV (@CW33) April 22, 2016