This is an archived article and the information in the article may be outdated. Please look at the time stamp on the story to see when it was last updated.
FORT WORTH — It's a doggy dog world at Cook Children's Medical Center in Fort Worth. Four doggone cute certified therapy pups are on staff.
Meet Ralph Lauren, Chanel, Journey and Kitty!
"Our dogs, they're pretty much celebrities. They're photographed constantly, they're followed, they have their own social media accounts," said Kizzy Marco, Facility Dog Program Coordinator.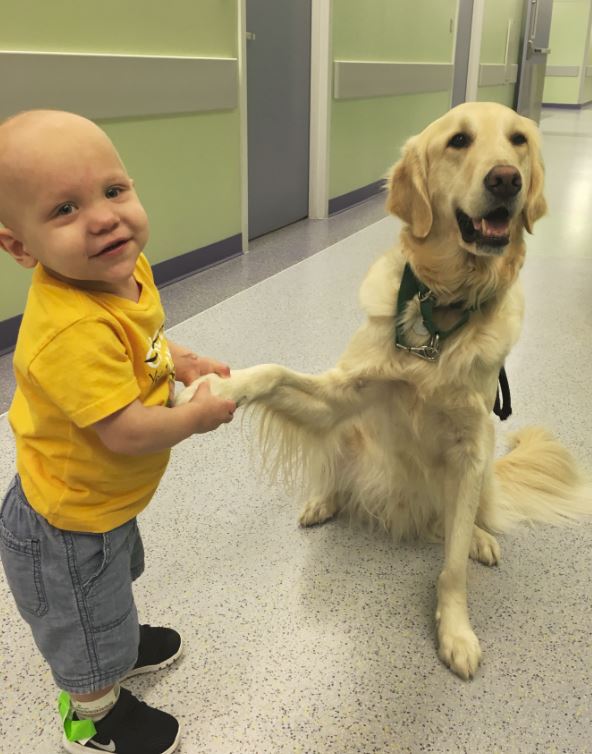 "The dogs are kinda famous — doggy famous," young patient Fiona said.
Yep, they're "doggy famous" thanks to Cook Children's "Sit… Stay… PLAY" program. It allows Ralph and the crew to work their magic on young patients battling tough illnesses, like 20-month-old Parker.
"Parker was diagnosed with bilateral retinoblastoma in January of 2016. He grows tumors in the retina of his eyes, and he's currently blind in his left eye," Parker's mom, Leslie Abbott, explained. "During chemo, during treatments, Parker just has a really rough time with everything."
Abbott went on to say, "Ralph is just very good at cheering Parker up. Parker will take him on a walk around the floor, give him high fives, shake his paw and give him treats."
And the dogs don't discriminate when it comes to age.
"Ralph is also good for me, because these days get hard and long," Abbott said, then received a nice sloppy kiss from Ralph!
"They all bring the same softness and joy and ease to the hospital environment," said Marco. "And make it a place that kids kinda want to be."
Now that's something to bark about!
If you'd like to donate to the "Sit… Stay… PLAY" program, click here.