This is an archived article and the information in the article may be outdated. Please look at the time stamp on the story to see when it was last updated.
DALLAS — Most of us know him as the ringmaster of the circus we know as the "Jerry Springer Show."
But the talk show host turned crooner in Dallas Thursday night when he covered some Elvis songs at Big Al's McKinney Tavern in Dallas.
But when "Jerry Does Dallas," he's not a "one and done" kinda guy.
He took a seat bright and early Friday morning with the Eye Opener team here at the CW33 studio and got the chance to add his own spin to the morning news.
It's nothing new for Jerry.
"I used to be a news anchor for ten years for the NBC affiliate in Cincinnati and the managing editor there," he told NewsFix.
Things have changed, both for Jerry's career and for the world.
Friday's Jerry Springer show was called "Gay Crush on My Best Friend."
Back in 1995, the Jenny Jones Show fielded a similar topic. That led to a murder... and a lot of criticism for the show.
We also got him to talk a little about refugees and immigrants. He knows a little about the topic; his grandparents escaped Germany during the Nazi era and his parents moved to America.
After Eye Opener, it was a short walk from the studio to the newsroom.
Jerry took over Yolonda's audio booth for a few stories.
And he got to "Express Himself" with a special wish on our wall: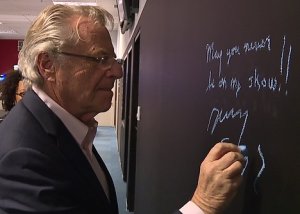 "May you never be on my show."
-Jerry Springer