This is an archived article and the information in the article may be outdated. Please look at the time stamp on the story to see when it was last updated.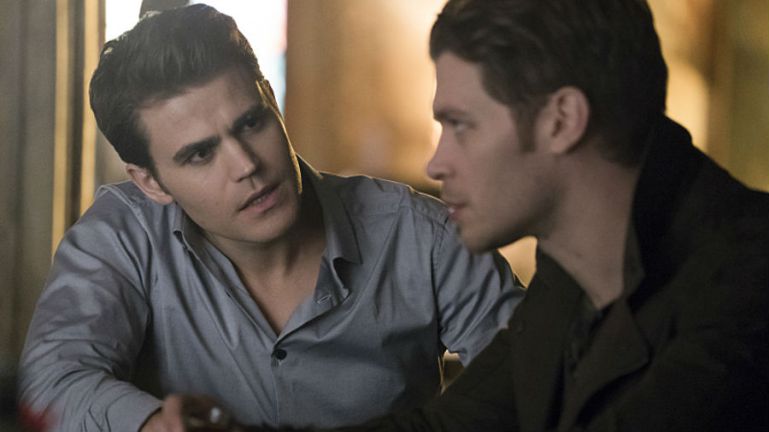 What exactly is the proper etiquette for running in to the all-powerful and self-proclaimed "last love" of your no-longer-magically-pregnant girlfriend, while on the run from an immortal vampire hunter? You've got to love the subtle nuances of dating on "The Vampire Diaries."
While visiting the magic-impervious bar St. James Infirmary in New Orleans, Stefan (Paul Wesley) gets a visit from his old frenemy Klaus Mikaelson (Joseph Morgan).
RELATED: The 10 best 'Vampire Diaries' romances … and the 5 worst
While the two knock back drinks and update each other on the goings on of the past few years (and how crazy is it that Klaus and Stefan have not laid eyes on each other since way back in Season 4), Klaus recognizes Stefan's Phoenix scar and promptly kicks him out of the city to avoid bringing Rayna down on his family. It seems Klaus would rather be enemies than friends this time around.
Fortunately for Stefan, Klaus picks up a call from a very-panicked Caroline (Candice King), and his heart grows three sizes after hearing her voice.
Needless to say, fans of Klaus and Caroline's relationship were more than a little excited to finally see the two interact again, even if it was just over the phone.
KLAUS SAID CHILDREN WEREN'T PART OF HER PLANS BUT DO Y'ALL GET THE DOUBLE MEANING??? NEITHER WAS HE BUT THINGS CHANGE!!!!! 😭😭

— klaroline groupie (@SheKissedKlaus) February 26, 2016
RELATED: Will 'The Vampire Diaries' and 'The Originals' finally have a Klaroline crossover?
Whether it's concern for Caroline or a sudden urge to do the right thing that motives Klaus, he decides to rush to Stefan's side just in time to save him from Rayna and the bayou's bloodthirsty werewolves. Unfortunately, Steroline fans might want to hold off on the gift baskets because Klaus follows up his rescue with a pretty troubling dose of wisdom.
Realizing that Stefan will always put Damon's needs over his relationship with Caroline, Klaus urges Stefan to let Caroline go rather than sacrifice their happiness together for the rest of eternity every time Damon (Ian Somerhalder) gets himself into a new mess.
Could this cause a Steroline breakup? A resurgence of Klaroline? Or is it all just a very tricky way to finally get Caroline and Alaric (Matt Davis) together?
RELATED: 'Vampire Diaries' and 'Originals' crossover photos show Klaus and Stefan's reunion
Meanwhile, Bonnie (Kat Graham), Damon, and Enzo (Michael Malarkey) find themselves stuck in a battle of wills inside The Armory that results in Damon being locked in a room with Tyler (Michael Trevino) on the full moon. One would think with Klaus so nearby it wouldn't be too much of an issue, but The Armory never plays by the rules.
It's getting harder and harder to imagine how Bonnie and Enzo end up together in these flash forwards. Cutting off hands and hospitalizing head traumas don't make for the most romantic wooing techniques, and Bonnie and Damon seem to be the ones growing closer if anything.
When you're done wondering about all of that, you can move on to freaking out about Caroline showing up in New Orleans to find Klaus, only to realize that he hasn't been seen in that city in three years.
"The Vampire Diaries" airs Friday at 8 p.m. ET/PT on The CW.