This is an archived article and the information in the article may be outdated. Please look at the time stamp on the story to see when it was last updated.
DALLAS – For anyone building a brand, there's plenty of trial and error, uncertainties and victories. Creating a source to industry success, KG Graham's COSIGN Magazine and COSIGN Media Group continuously gives creatives, entrepreneurs and artists blueprints to progress in their business.
Initially interested in psychology, KG steered towards media after his desire to understand what attracts people to certain brands. Working with Ozone Magazine, a southern hip hop magazine, and interning at Universal Music Group, he branched out to create his own publication, COSIGN Magazine, after learning he wanted to share more than music.
"I felt like there were so many more stories to tell than just hip hop," KG said.
COSIGN Magazine is a lifestyle publication for entrepreneurs and creatives giving its audience a recommendation platform in different industries. Readers will find music and entertainment, fashion and beauty as well as features on entrepreneurs, artists and creatives sharing a "fresh look and insight to the upcoming trends" in their businesses.
"It's a mixture between Complex and Forbes, a mixture between Fader and Foundr. It's of the culture, but it's giving you value."
KG entitled his magazine after it's mission. COSIGN highlights people who have found success in their industry and vouch for, or cosign, someone else who's upcoming or helped them reach their level of success.
"The culture is all about what's popping, what's next, and when you cosign somebody you're giving them that information."
He's recently launched a campaign, 1,000 COSIGNS, that interviews people in certain industries readers should know, which in turn, the interviewee suggests someone else who should be known.
"We want to cosign 1,000 entrepreneurs, creatives, influencers and professionals… Since you can cosign any industry, you can cosign a restaurant, you can cosign a designer, I wanted to pick something that runs across all mediums… Everybody has that one person who helped them."
Along with his magazine, KG also provides digital marketing and media services with COSIGN Media Group. He and his team create content and campaigns to help clients enhance their brands.
"I started doing events, and a lot of times when I do events small businesses and brands would be like, 'Hey we need help with marketing. We need help with events.' I realized as print is declining, digital marketing and social media is what's increasing. So I realized I can couple my print advertising with digital marketing services."
The end goals for KG is to create documentaries and films with COSIGN.
"I basically want to travel the world and tell stories of people all over the world… still have the actual magazine, but do more documentary and film and producing."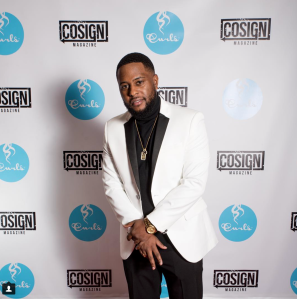 COSIGN Magazine will be celebrating its 7th anniversary this July. Upcoming events include the COSIGN Experience 2018, The Cosign Cypher, and the COSIGN Awards Dinner & Gala.