This is an archived article and the information in the article may be outdated. Please look at the time stamp on the story to see when it was last updated.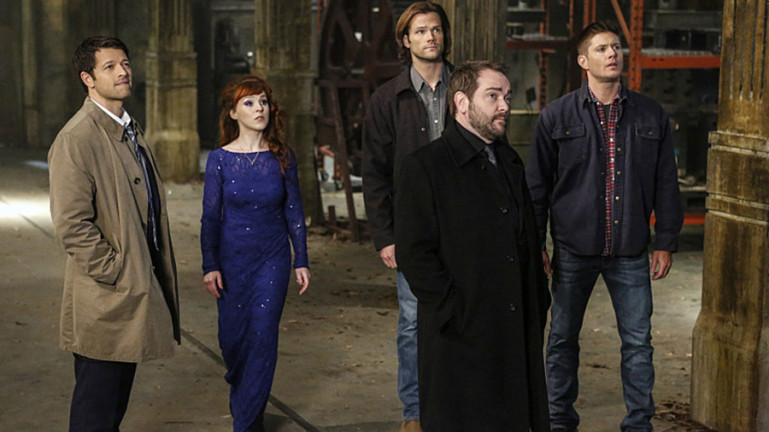 We sure love it when a plan comes together and while it doesn't exactly look like things really go according to God's plan, "Supernatural" followed through on delivering some jaw-dropping goodies in Wednesday's (May 18) episode, titled "We Happy Few." With Lucifer (Misha Collins) and God (Rob Benedict) reuniting, the first order of business for Sam (Jared Padalecki) and Dean (Jensen Ackles) is to lead father and son through an odd family therapy session. It may have been awkward to see the two biblical beings being humbled by their very human emotions but at least Lucifer's teenage temper tantrums were put behind them.
Once the water was confirmed under said bridge, it was time to formulate a plan and while the details of said plan were a bit simplistic — just weaken Amara (Emily Swallow) until God can put her back in the cage — the means in which they tackled it were, well … let's just say they went all "Ocean's 11" on the Darkness. With the inability to get the original team back together to put Amara away, Sam, Dean and Castiel (Lucifer finally gave him some air time) each recruited an unlikely member to their motley crew.
RELATED: 'Supernatural's' Rob Benedict: 'It's been a blessing' playing God
Dean brought on Crowley (Mark Sheppard) — with his Trump-esque "Make hell great again" motives — Sam recruited Rowena (Ruth Connell) and her witch friend Clea (Barbara Eve Harris) and Castiel pleaded with his angel brothers and sisters to join their forces to take Amara down. It was a very compelling thing to watch good and evil work together. But as God explained it, one cannot exist without the other and with Amara's plans to wipe everything out — the choice was quite clear what side to take.
In the end, though, it looked like even the full force of Crowley's demons and heaven's angels, Rowena's magic and Lucifer's strength was no match for Amara. While she got her brother to finally apologize for his actions, the notion of being caged once more unleashed a fury no one expected. With God left for dead and the rest of the team scattered and beaten, is this really the end for the Winchesters as we know it?
Of course it isn't, there's another season coming! But still, it's always fun to speculate. At the very least, "Supernatural" is setting itself up for one epic season finale.
"Supernatural" airs its Season 11 finale on Wednesday, May 25 at 9 p.m. ET/PT on The CW.