This is an archived article and the information in the article may be outdated. Please look at the time stamp on the story to see when it was last updated.
CLICK HERE FOR FULL FORECAST AND CURRENT WEATHER CONDITIONS
You can get up-to-date forecast information, alerts, and more with the CW33 interactive weather app.
Apple users click here, Android users click here.
The very first time you open the app, it will ask you to set your Location, which will allow you to receive custom alerts for your specific area.
When you input your location, it drops a green dot in your general area. To pinpoint an exact location, widen the screen and drag the dot to the precise you location you want. This can be done with every new location you add.
Once that's done, the app will take you to a cool feature we call the carousel; it allows you to scroll through app items (Daily Forecast, Hourly Forecast, Alerts, etc.) or tap on any of them to bring them up in a full page.
Tap the CW33 Weather logo in the upper left corner to return to the main screen from any of these items.
You can also see my video forecasts from the CW33.com Weather page.
On the Interactive Map, pinch and pan to zoom in and out — you can also click 'Play' to track a storm's path.
Tap the layers button in the lower right to add in various overlays, such as temperatures, storm tracks, lightning, precipitations, and much more (even earthquakes).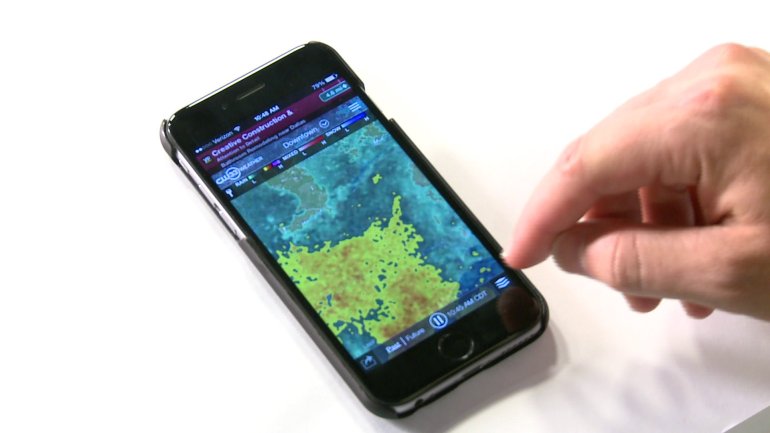 The arrow up at the top takes you back to your map.
The bars at the top of the screen show you all of these different links in a list, if you want to keep it quick and easy.
If you need to adjust the Alerts, you receive, no problem. Just go to the 'Settings' and customize them to your liking.
Again, the app is FREE and can be downloaded for iPhone, iPad, or Android phones and tablets.
I hope you enjoy the new app!