This is an archived article and the information in the article may be outdated. Please look at the time stamp on the story to see when it was last updated.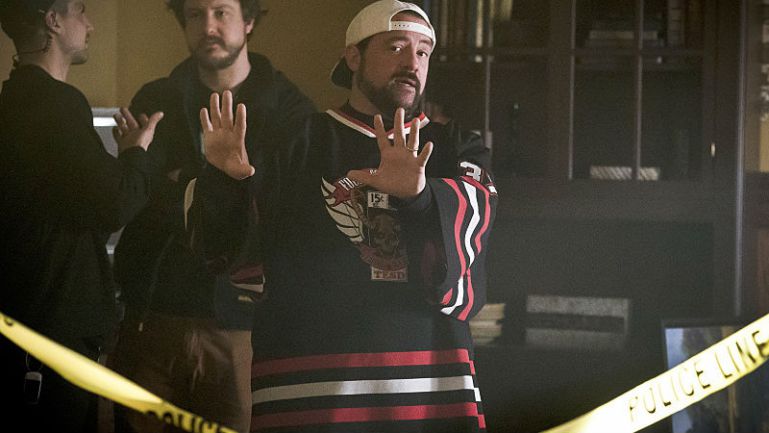 When Kevin Smith signed on to direct an episode of "The Flash," chances are the cast didn't realize just how big a fan he was. After getting introduced to the show by lifelong friend — and frequent collaborator — Jason Mewes though, how could he not?
"The only reason I have 'The Flash' job is because of him," Smith tells Zap2it. After a lot of convincing from Mewes and a viewing of the Season 2 episode "The Fury of Firestorm," which introduced King Shark into the world, Smith became a devoted fan of the series.
"I really fell in love with it," he says. "That show reads very much like the 'Flash' comic book I read in the late '80s and early '90s functioned. Each episode plays like a standalone issues and has the same heart, humor and spectacle that the comics had."
RELATED: Destiny, storytelling and 'The Flash's' WestAllen 'romance' – is it genuine?
Luckily his episode weighs heavily on the heart side of those three, a place the "Clerks" and "Chasing Amy" director feels comfortable playing around in, explaining, "When I'm not doing comedy, the thing I'm most adept at is emotional shit."
That emotion will be on full display one week after Barry (Grant Gustin) seemingly disintegrated while trying to get his speed back.
"When I got on the show I was like, 'I thought I was here to direct the Flash but you just killed the Flash. What am I supposed to do?'" Smith remembers. "Thankfully Zack Stentz wrote a fantastic episode."
RELATED: 'Arrow' and 'The Flash' should take inspiration from 'Captain America: Civil War' – It's time for a fight
Fans will be happy to know that Barry isn't dead, however he's definitely not somewhere else on Earth-1.
"Right up front we establish that he's in the Speed Force. Cisco vibes him and it like, 'He's not dead, he's alive!'" Smith teases. "That episode gives us a chance to do Barry meets his maker, essentially that's what the story is."
While you'll see many familiar faces in the Speed Force with Barry, there's one that will likely have the greatest impact.
RELATED: 'The Flash' EP teases future of Barry and Iris' relationship
"You see that Barry's mom in the episode and that always raises that show to the best level it can be — whenever they introduce Nora (Michelle Harrison) and whenever they do Barry and Nora stuff," he explains. "The Season 1 finale was one of my favorite hours of TV ever produced. I cracked the script that Zack wrote and it's pretty much a spiritual sequel to the Season 1 finale with the mom stuff."
So while Smith won't guarantee you'll cry watching Barry and his mom interact, the possibility is definitely there.
"We have a chance to slice open the chest of the viewer, pull out their heart and eat it right in front of them. And watch them love it, because it's so heartbreakingly good," he says.
"The Flash airs Tuesdays at 8 p.m. ET/PT on The CW.