This is an archived article and the information in the article may be outdated. Please look at the time stamp on the story to see when it was last updated.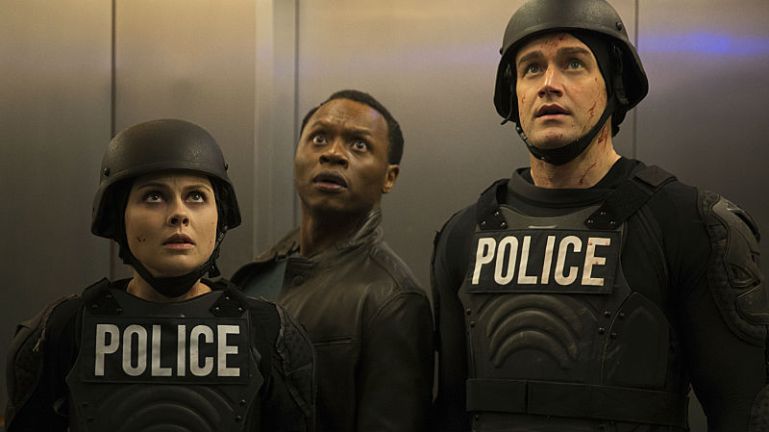 When "iZombie" executive producer Rob Thomas said the Season 2 finale would be the biggest installment of the show yet, he wasn't kidding. Not only does Clive know Liv's walking dead secret — and by extension Major's — but a new society is emerging. The Zombie World Order has arrived.
With the fall of Max Rager — and the death of Vaughn Du Clark, who was snacked on by his zombie daughter — a new power is emerging. A company with a military contract has essentially bought out Max Rager and it was revealed that this group of what can more or less be classified as mercenaries is actually all zombies.
What's more, they know who Liv is and think she's going to be a major player in a new undead society that's looking to take control of Seattle, and the world.
RELATED: 'iZombie': Liv takes a bite out of science
"You ready for the new world order, Olivia Moore?" she's asked. "Ready to do your part for your kind?"
While the Season 1 finale set up a personal issue for Liv to face in being unable to donate blood for her brother, the ramifications of this particular cliffhanger will play out on a worldwide scale. This group is looking to take the zombie infection worldwide, while Liv's spent most of the series run trying to simply cure zombieism and return to as normal a life as she can.
Now she has to decide where she falls: In with her own kind or trying to save the world from herself, more or less.
RELATED: Ravi and Peyton are too adorable to handle on 'iZombie'
Of course, the answer is easy. You don't side with the people who killed and ate Rob Thomas. That's right, Thomas — the Matchbox 20 lead singer, not the executive producer — appeared in the finale as himself, performing at a Max Rager party.
As the Super Max-fueled zombies got out of control, he was one of the many who ended up becoming walker food. Is a world without the sweet, melodic sounds of Matchbox 20 one that Liv wants to exist in?
Unfortunately, we're going to have to wait for the fall to find out. Just like we'll have to wait to see if Ravi still has a shot at wooing Peyton after a gun-toting Blaine saved her life. Maybe he was right and nice guys do finish last.