This is an archived article and the information in the article may be outdated. Please look at the time stamp on the story to see when it was last updated.
Looking to expand your circle? Maybe you're looking for a new group of friends ? Well the women of Circle Seven Five want you to run in their circle. This week's Subculture is all about making friends, being social and having fun in Dallas.
CSF was born after Cassidy Fischer, a Dallas native, left for college in the Big Apple and after graduating returned to Dallas in search of the sense of community she once felt.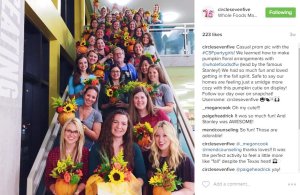 CSF helps millennial women connect with social and business networking opportunities. Members say the scheduled events help them help explore the city while making  genuine friendships, while those with an entrepreneurial spirit can connect to build new business projects.
Want to join? CSF is based on 3 different membership plans, $15 a month gets you one event every three months, $35 a month gets you two events every month and $100 a month gets you 5 events a month! Their new platform, #gethappie, offers members free food, drinks, fitness classes and much more around Dallas. What's better than FREE?
CSF also recently expanded their circle to include the ladies north of Dallas. So if you live near Plano, Frisco, Allen or McKinney, you can join in all the fun too!
Connect with the girls: https://www.circlesevenfive.com/