This is an archived article and the information in the article may be outdated. Please look at the time stamp on the story to see when it was last updated.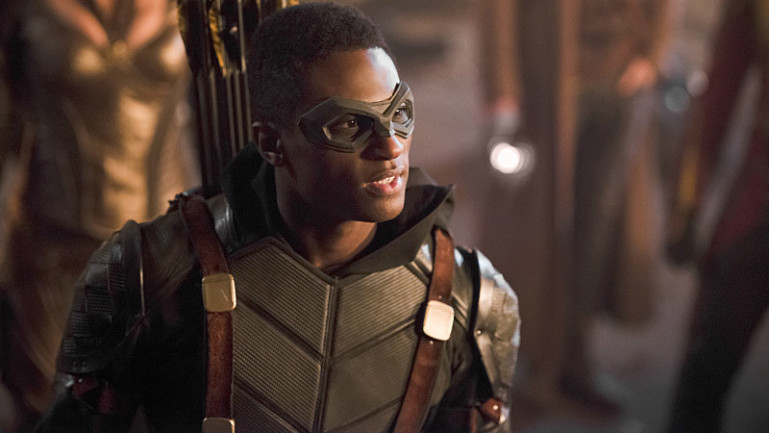 When it was revealed that the role of the Green Arrow in Star City was taken on by John Diggle Jr. (Joseph David-Jones) — AKA Connor Hawke — in the future on "Legends of Tomorrow," "Arrow" fans were delighted to see the Diggle family name live on.
The same could be said of David Ramsey, who plays Diggle on "Arrow" and believes his character would have "nothing but pride" in seeing his son grow up to become the Green Arrow.
"I think in terms of him looking at Connor and how he would feel that he took the mantle of the Green Arrow, I think Diggle would have nothing but pride that his son, in any capacity, decided to protect those that couldn't protect themselves," Ramsey tells Zap2it. "That's really what Team Arrow does."
RELATED: 'Legends of Tomorrow's' Franz Drameh teases 'dope' Firestorm action
Fighting against injustice in any form is what Diggle is all about, so knowing his son was carrying on that trait would certainly bring him a bit of peace about the future, bleak as it may be.
"In any capacity, whether his son decided to become an ADA like Laurel Lance and protect the innocent or a vigilante or a cop like Captain Lance — I think he'd be proud in any instance if he took on that mantle," Ramsey explains. "Obviously taking on the mantle of Green Arrow is beyond Diggle's wildest dreams. He's just a proud father."
However, that doesn't necessarily mean it's a happy ending. While the episode of "Legends of Tomorrow" didn't fully explain what happened to Connor's father, Ramsey says, "there was some guilt that the son has that he couldn't save his father."
RELATED: Team 'Arrow' compelled to 'get revenge' for Laurel's death
If driven by guilt, that could be a dangerous road for Connor to go down. That said, "Legends" simply portrayed a possible future, so that doesn't necessarily mean Dig and the rest of his family are going to meet cruel ends.
However, hopefully it means there will be an addition to the Diggle family household at some point during the run of "Arrow." With Dig's family playing such an important role in the show — and his life — a son would certainly add an interesting dynamic.
"Legends of Tomorrow" airs Thursdays at 7 p.m. CT on The CW.