This is an archived article and the information in the article may be outdated. Please look at the time stamp on the story to see when it was last updated.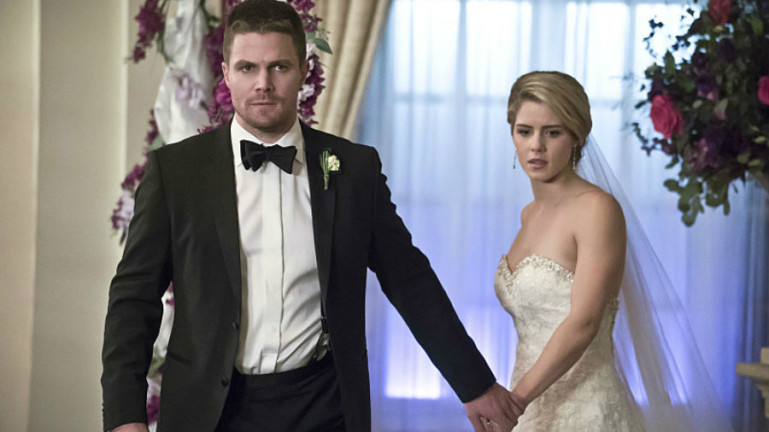 Ever since Oliver (Stephan Amell) and Felicity (Emily Bett Rickards) called it quits on "Arrow," Olicity fans have been agonizing over whether their favorite couple will make their way back to each other by the season's end.
It's not going to be an easy road back to each other, however. After Felicity's paralysis closed her off for so long, and then Oliver's secret love child complicated matters even further, these two crime-fighters just couldn't seem to make it work, professionally or personally.
RELATED: 'Arrow': Stick a fork in Olicity, they're done
Ever since the split, things have only gotten more complicated. Laurel's (Katie Cassidy) death struck a blow to the entire team, but none more so than Oliver, who has sworn to avenge her. With such a big task ahead of them, do Oliver and Felicity have it in them to reconcile, or will their relationship problems carry over into Season 5?
Why Oliver & Felicity should reconcile
When a couple has "endgame" stamped on them in the way that Oliver and Felicity do, putting them through the wringer is sometimes the only way to keep the relationship interesting and relevant to the show.
Throwing obstacles in Olicity's path this year has allowed the show to explore their differences and how those difference help and hurt the team as a whole. More importantly, both Oliver and Felicity have been challenged to grow out of bad habits and into new ones. Oliver has learned how dangerous secrets and self-sacrifice can be, and Felicity has been able to grow into her identity outside of Oliver and Team Arrow.
Now that their breakup has run its course and Oliver and Felicity are getting back to a good, friendly place, it may be time to let these two reconcile and get back together.
After all, Olicity is one of the only TV couples that is just as entertaining to watch when they're in a happy, healthy relationship as when they're not, which is a rare commodity. "Arrow" benefits from their light-hearted love more than their anguished drama anyways.
RELATED: 'Arrow's' Emily Bett Rickards has hope for 'soulmates' Olicity
Why Oliver & Felicity need more time
Let us play devil's advocate, which surprisingly has a lot of merit.
Oliver and Felicity work well together as a couple, but recent episodes have proven that they might work better when they're not together.
Felicity, for all her light and enthusiasm, is most interesting when she has an edge about her. When she's surrounded by Oliver's rather broody nature, her optimism kicks into overdrive and she misses out on a lot of opportunities to show her hardened, serious side. In the past few episodes, she's managed a great balance of anger, hope and grief, which might have been hard to accomplish if she'd had to be Oliver's rock.
Oliver has also flourished a little in Felicity's absence by having to depend on himself as a picker-upper instead of his perpetually cheery girlfriend. He's made so many self-discoveries and learned a lot of hard lessons without Felicity there to hold his hand, and that kind of character development is what fans love to see on "Arrow."
No matter how much Olicity fans might want a reconciliation pronto, it may serve these characters to stay apart for a while longer and explore these new complexities.
"Arrow" airs Wednesdays at 8 p.m. ET/PT on The CW.