This is an archived article and the information in the article may be outdated. Please look at the time stamp on the story to see when it was last updated.
GRAPEVINE — A good reunion's got emotional greetings, a healthy dose of reminiscing, and of course that one dude willing to get the party started!
Kidd Kraddick Morning Show host Jenna Owens was thumbing through old Disney World scrapbooks, J-Si Chavez was challenging the dad known as "Twerk Daddy" to bust out his old moves, and Big Al Mack gave the postmortem when that twerking turned into a mock pulled muscle.
"Oh, he pulled a twerk-a-zoid!" Big Al shouted.
This wasn't just any reunion at Grapevine's Main Event. This was a Kidd's Kids reunion!
"It's really important that they reconnect, and the families reconnect because they really bond on the trip," Kidd's Kids CEO Caroline Kraddick said, explaining the need for an occasional reunion of families who have been on the 25 years worth of Kidd's Kids trips. "I find it's really cool to bring them all back together."
For the uninitiated, Kidd's Kids is the group started by the late radio host Kidd Kraddick, spreading happiness and trips to Disney World to families that have a child suffering with a life altering diagnosis.
The event Saturday was just a chance for these families to get back to fun and games. In fact, it was the first reunion since Kidd's shocking death in 2013.
"After my dad passed away we just had so much going on, but it's always been on my heart to do this again," Caroline Kraddick said. "I'm really happy we executed it this year."
Elijah Anderson is one of Kidd's Kids. His family made the trip to Disney in 2013, and they were at the reunion Saturday.
"It was really hard for me to walk a really far distance because my legs would get really tired," he told NewsFix.
Elijah's dealt with a number of things: cerebral palsy, epilepsy, and a first of its kind chromosome anomaly. He deals with short term memory, difficulty processing things visually, and physical disabilities like deformed feet that people thought would keep him from walking. Not only does he walk, though. He's active.
For his family, the Kidd's Kids trip was a god send.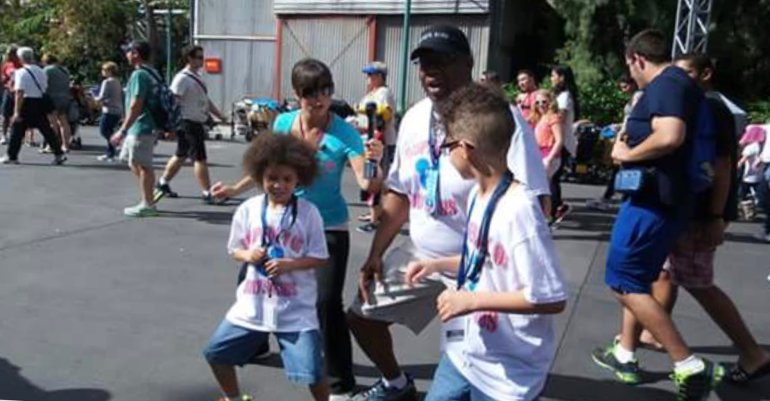 "It's draining. It's draining, and Kidd's Kids gives them an opportunity to be a kid and not worry about their ailments or injuries or anything else," Elijah's dad Michael Anderson said.
It's been four years since the Anderson family's trip, and yes, that's where the twerking and Michael Anderson's nickname, Twerk Daddy, started.
More importantly, Elijah, the kid who got exhausted just walking before, is now a basketball player. Stories like that? That's what reunions are really about.