This is an archived article and the information in the article may be outdated. Please look at the time stamp on the story to see when it was last updated.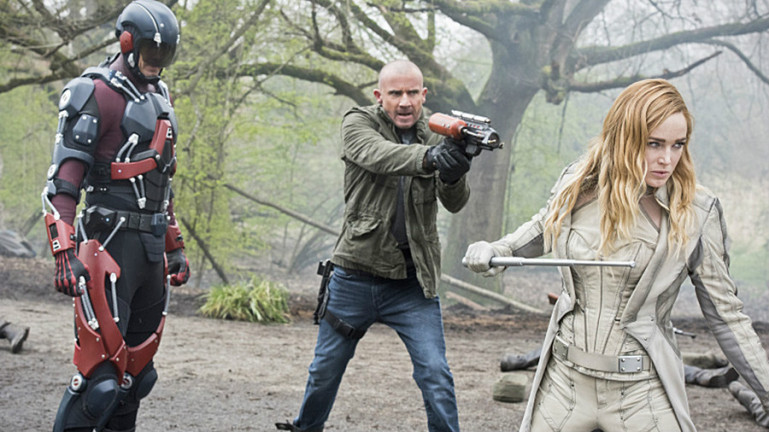 After a rather bonkers first year run, "DC's Legends of Tomorrow" ended Season 1 on a high note by not only wrapping up the Vandal Savage (Casper Crump) threat but introducing a new world of possibilities for the show's next season. In Thursday's (May 19) finale episode, titled "Legendary," the team is given an out by Rip Hunter (Arthur Darvill) after the loss of Leonard Snart, and subsequent capture of Kendra (Ciara Renee) and Carter (Falk Hentschell).
This may be a ragtag gang of characters but they quickly realize their place in the world and after a brief return to their ordinary lives in the timeline, these "Legends," if you will, return to Rip and the Waverider to save the world against Savage. Traveling back to 1944 — interrupting a kerfuffle between Vandal and a bunch of Nazis — the team soon realize the immortal man's ultimate plan: to erase time back to 1700 BC where he can live as a God. Sure, why not?
RELATED: 'Legends of Tomorrow' twist changes the way The CW's comic universe works
This plan doesn't come to fruition, though, as the group comes together and ultimately defeats Savage, not once or twice, but three times. His mission to obtain the three meteorites from 1958, 1975 and 2021 made him briefly mortal. It was a cathartic scene to watch, seeing this truly evil man be defeated. But those meteorites proved to be another challenge for the team, leading Rip to fly the Waverider into the sun to save humanity.
Of course, Mr. Hunter is the leader of the pack and with a little time-travel magic, he returns safe and sound to the group. While it looks like Hawkman and Hawkgirl will be out of the picture moving forward, a new character introduces himself in the episode's final moments.
Rex Tyler (Patrick J. Adams) — known to comic book fans as Hourman — flies his own Waverider frantically to Earth on a mission to stop the team from taking off in theirs. Sent from future Rip Hunter, it looks like "DC's Legends of Tomorrow" is about to bring more DC characters to the small-screen as Tyler is repping the Justice Society of America to the fullest.
"DC's Legends of Tomorrow" Season 2 will premiere in October, 2016 to the CW.